INTERACTIVE BROCHURES

Where products are available in different designs, colours, finishes, styles etc. interactive brochures can help customers choose which configuration suits best. Screen dumps from two applications are illustrated below. The first, for a brick manufacturing company, allows customers to select an office or residential building and then change the bricks, roof tiles or paving. This application runs on a kiosk PC in their showrooms. The second example is for a fireplace manufacturer. The customer can vary wall colour and floor covering to match their living room at home and then choose different fireplaces colours/materials.
Interactive brochures can be configured to run on PC's or can be distributed on a DVD or can run from a website.

CD-ROM / DVD BROCHURES
Images, virtual tours, voiceovers, background information, location details, area maps, site maps and specifications can be combined onto one multimedia CD-ROM or DVD brochure. These digital brochures can be a comprehensive guide to a new development and are particularly effective when selling "off the plans".
We can also transfer conventional print brochures onto a DVD or a website.
3D OBJECTS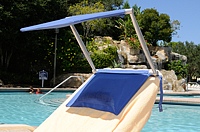 Interactive 3D Objects can showcase a product more effectively than conventional 2D photos or images. The user can rotate, zoom and pan easily plus animation can be incorporated to demonstrate and objects move or function.
Click on image below to go to Cush n Shade website and click on 3D Tour there to see example. Or click here to go direct to example.